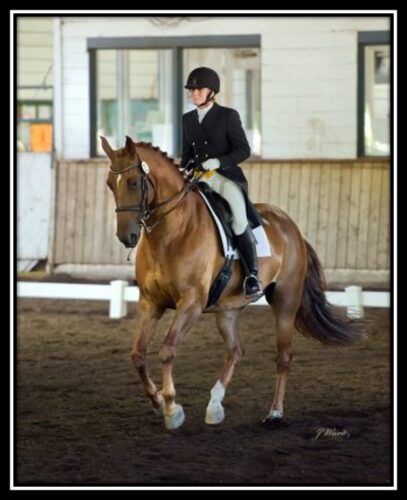 Mission Statement:
          Dedicated to building a strong, positive training foundation for you and your horse through developing a partnership based on confidence. This confidence is built through understanding effective, consistent techniques for working with horses. Cassi brings a lifetime of experience to her teaching and training, each horse and rider are provided an individualized program. She has a belief in a sensitive, passionate approach to instruction and training, focused on positive methods.
Background:
          Cassi grew up with a strong foundation in horses. Her father was a professional horse logger. From him, she learned the skills of driving and long-lining. Before she was old enough to join 4-H, she was participating as a shadowing member. Cassi went on to excel in the 4-H program in all disciplines. She began as a gamer and western pleasure rider, unknowing she would make quite a switch down the road. Her favorite 4-H activities were judging and horse bowl because they taught her more about the art of horsemanship. She then ventured into the world of showjumpering and three-day eventing. She sought out a more diversified pool of talent and instruction, so at the age of sixteen, she and her horse Damascus moved to the East Coast to ride and compete alongside top riders. Now back in a part of the country she loves, Cassi took a leap of faith over 10 years ago, and has made horses and training her livelihood and her dream.
          Cassi's focus and passion is Dressage. She has successfully competed through FEI Prix St. George, working toward Grand Prix. Achieving her USDF Bronze and Silver Medals, Cassi is constantly striving toward her next goal. Cassi's most influential mentor is USEF "R" Dressage judge Deborah Spence. Cassi has also worked with Lisa Wilcox, Anne Gribbons, Jeff Ashton Moore, Jeremy Steinburg, Gerhart Poltz, Micheal Etherly, and Tina Stuart DMV. She has been a riding demonstater for the USDF Instructors Certification Program and the USDF "L" Judges program. With a skilled background of diversified disciplines, her positive techniques help horses flourish with confidence in and out of the ring.
          Active in the show community, Cassi has also had great success at Breed Shows, American Warmblood Inspections, ISR Oldenburg and Hanoverian Inspections, participating in both in-hand and Mare Performance categories. Her belief in diverse training led her to compete, three years in a row, in the National Mountain Trail Championships, just for the experience. Cassi is a highly respected 4-H judge and clinician throughout the Pacific Northwest, also judging Open shows and schooling dressage shows. She has years of experience in organizing and orchestrating clinics, as well as schooling, dressage, and 4-H shows.
Cassi aims to help you and your horse meet and exceed your next goals!